Exploring New York on your stand up paddle board sounds exciting, doesn't it? That's because it is.
Paddling the Hudson River is a unique experience. It lets you enjoy iconic views of some of the most remarkable places.
There are lots of breathtaking locations and you may be wondering where to start. But you don't have to. Here is a simple guide to help you out.
Where to Stand Up Paddle Board on the Hudson River
1. Manhattan, New York City
You have heard all about the New York City skyline.
But it doesn't matter how many pictures you've seen on the internet. The moment you see it while paddling the Hudson River, it will take your breath away.
Make sure you take a nightfall paddle boarding tour for the magical view. Some people describe it as "surreal".
But the stunning Manhattan skyline is not all there is to see.
For a day trip, paddle around the Intrepid Museum. It is scary– going around the huge ship with your comparably small board– but in a good way.
Lastly, your trip wouldn't be complete if you didn't paddle to see the Statue of Liberty. Many people will tell you that there is no better way to enjoy the view of this famous landmark. And who knows? After your tour, you might just agree with them.
2. Hudson Valley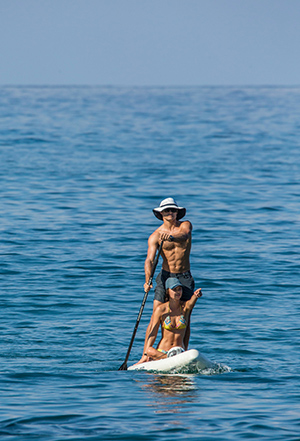 Paddleboarding the Hudson River in Hudson Valley affords you a view of some famous places that you might have only heard about.
You will get a good view of Bannerman Island and the U.S Military Academy at West Point.
Many paddleboard tours and rental shops offer a number of Cold Spring tours.
Cold Spring is a small picturesque village in the Hudson Valley. The tourist attractions here are countless, from majestic mountains to tranquil gardens and historic mansions. And the twilight views are like nothing you've ever seen before.
If you would like to explore more, take another tour, this time to the Bear Mountain Bridge. You will love it, especially if you are looking to take some gorgeous Instagram pictures.
You don't have to stop there, though. You can go ahead and paddle to the mouth of the Popolopen Creek
3. Sleepy Hollow
Interesting name, isn't it? You should definitely visit it.
Despite the spooky stories that you might have heard, paddling the Hudson River in this town is a calming experience.
Cruise past the famous Tarrytown Lighthouse, built in the 1880s, and on to the Tappan Zee Bridge.
While there, don't forget to find out whether or not the stories are true. 🙂
Hudson River SUP Tours and Rentals
You don't need to bring your own paddleboard or struggle to find the best paddleboarding locations.
The following SUP tours and rentals will help you have a great time.
1. Hudson River Expeditions
The Hudson River Expeditions offers paddle boards, kayaks, and canoes rentals. They also offer Cold Spring and Peekskill tours– both kayaking and paddleboarding.
There is something for everybody. They have yoga, twilight tours, waterfall tours, and all kinds of adventures for paddlers.
https://www.hudsonriverexpeditions.com/
2. Hudson River Recreation
You can rent a recreational kayak, canoe, or paddleboard for your adventures.
Hudson River Recreation has tons of tours, lessons, and special events.
Besides, they welcome children so the whole family can come!
3. Hudson Paddles
In addition to exploring Hudson Valley, how would you like to try SUP yoga while at it?
For SUP yoga, the shop offers all the equipment you will need. The lessons begin on land then you move on to the river.
They also offer tours and lessons as well as rent kayaks, canoes, and SUPs. If you like, you can ask for private instruction too.
https://www.hudsonpaddles.com/
4. Rivertowns SUP & Yoga
Rivertowns SUP & Yoga offers SUP classes, guided paddle boarding, and SUP fitness classes on the Hudson.
They sell merchandise at their shop too– for your comfort in the water or in case you need a souvenir.
https://rivertownssupyoga.com/
Conclusion
Hudson River offers one of the best paddle boarding experiences. You can watch the gorgeous Manhattan skyline or paddle past famous historic places. And you have tons of options when it comes to launching sites.
Besides, you don't have to bring your paddle board, or even be a pro paddler. The SUP tours and rentals will sort you out.
So why not give it a try? You will be happy you did.